GEAR SELECTOR 

CABLE
Chattarpati Auto Store is a leading gear selector cable manufacturer and supplier based in Delhi, India. The company is committed to delivering high-quality gear selector cables that are durable and reliable. With years of experience in the automotive industry, Chattarpati Auto Store has gained a reputation for providing exceptional products at competitive prices.
Our cutting-edge manufacturing plant is outfitted with cutting-edge technology and equipment, ensuring that all gear selector cables meet the highest requirements. Chattarpati Auto Store has a team of skilled technicians and engineers who are dedicated to ensuring that every cable meets the exact specifications and requirements of its customers.
Chattarpati Auto Store offers a wide range of gear selector cables to suit the needs of different makes and models of vehicles. Our cables are available in many sizes, thicknesses, and materials to assure that these meets the exact specifications. In addition, the company provides customised solutions to fulfil the individual needs of its clients.
Chattarpati Auto Store is committed to providing its customers with the best possible service. Our customer support team is always available to answer any questions and advise on the best gear selector cable for a certain application. We have a strong transportation and logistics network which ensures that our products are delivered timely and securely.
In addition to gear selector cables, Chattarpati Auto Store also offers a range of other automotive components, including brake cables, accelerator cables, clutch cables, and speedometer cables. We manufacture these products utilizing highest grade of materials to quality and reliability.
Chattarpati Auto Store has built a strong reputation for delivering high-quality products and exceptional customer service. The company's commitment to innovation, quality, and customer satisfaction has made it a leading gear selector cable manufacturer and supplier in India. If you are looking for a reliable and trusted supplier of gear selector cables, look no further than Chattarpati Auto Store.


Easy to install



Fine finish



Dimensional accuracy



Longer functional life.



Friction Free Cable.



Galvanized & Premium Quality Material
Some of Our
Major Products
Tata Ace Mega Dicor Gear Selector Cable
Ashok Leyland Dost Plus Gear Selector Cable
Mahindra Supro Gear Selector Cable
Swaraj Mazda Gear Selector Cable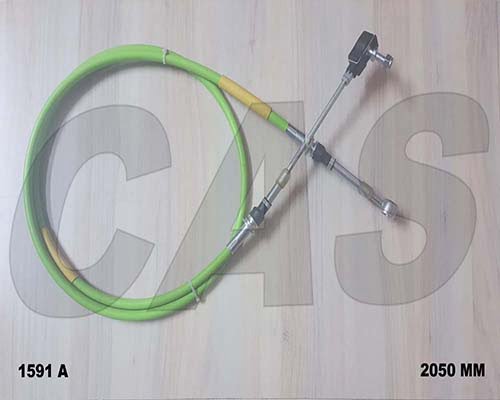 Ashok Leyland Dost Gear Selector Cable
Tata Ace Mega BS-6 Gear Selector Cable
Mahindra Maxximo Gear Selector Cable
TATA 550 LPT 909 Gear Selector Cable
TATA 1109/909 BS-3/4 Gear Selector Cable
TATA Prime BS-3/4 Gear Selector Cable